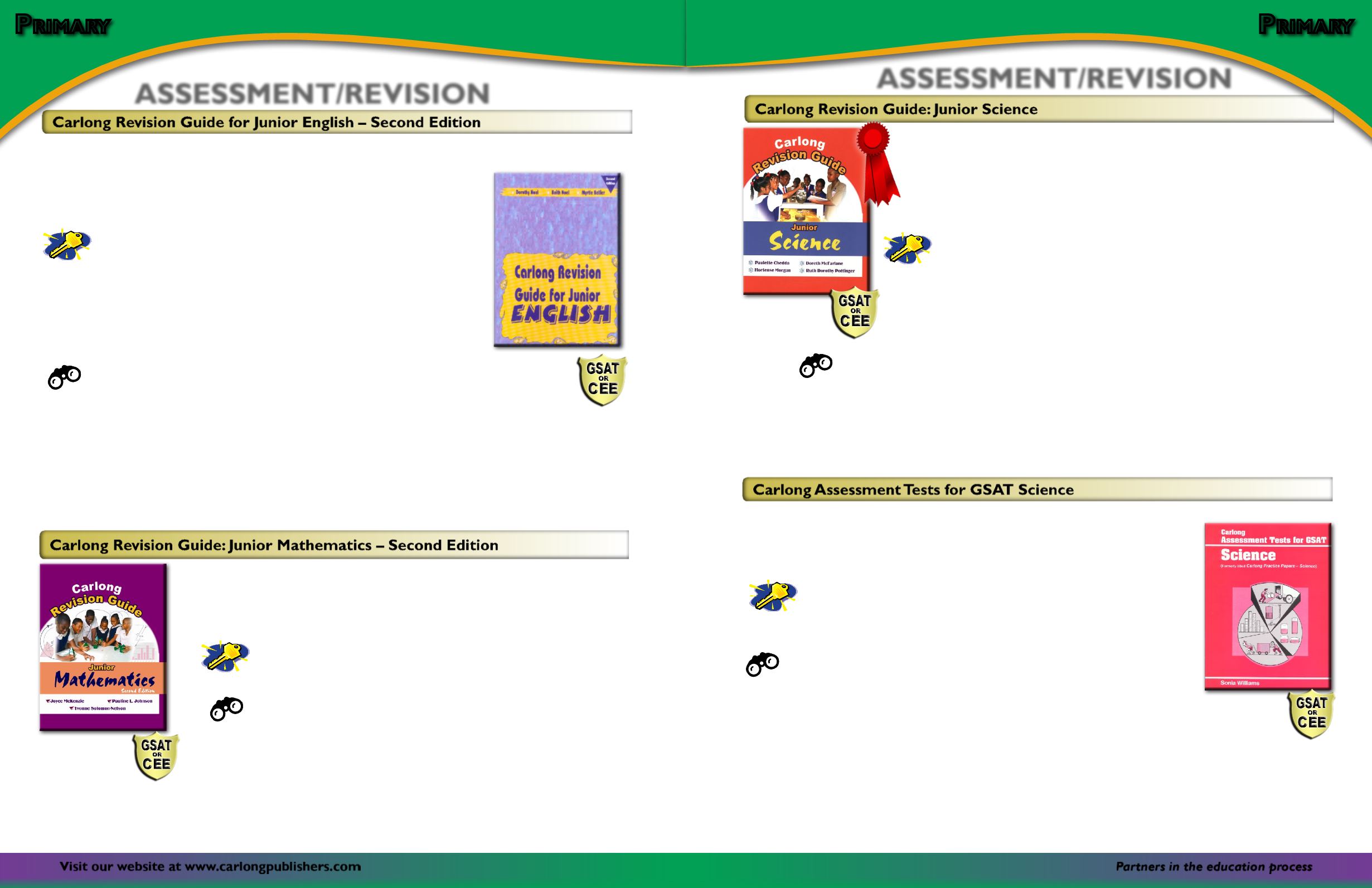 23
Partners in the education process
22
Visit our website at
www.carlongpublishers.com
ASSESSMENT/REVISION
P
rimary
T
his text focuses particularly on the topics which students sitting the CEE, GSAT,
CPEA and similar examinations find most challenging. It is the comprehensive
primary maths revision guide for the upper primary curriculum.
Joyce McKenzie

Pauline L. Johnson

Yvonne Solomon-Nelson
z
z
Practice exercises and fun activities for revision and reinforcement
z
z
Engages students' interest with conversational tone and encourages discussion
Key Features
Look Out For!
z
z
Key points that encapsulate the main concepts and pinpoint important vocabulary
z
z
Check
feature allowing students to verify answers
z
z
Worked examples
that utilize the most widely used problem-solving methods
z
z
Topics that prepare students for entry to secondary school, e.g.
graphs
,
basic
geometry
, etc.
ISBN: 978 976 638 090 8
Pages: 376
Age group: 10–13 years
T
his comprehensive language arts revision guide covers topics taught in the
upper primary curriculum. Students' comprehension and writing skills are
widened in preparation for GSAT, CEE, CPEA and other Caribbean secondary level
entrance examinations.
Dorothy Noel

Keith Noel

Myrtle Kellier
z
z
Strong focus on the problematic areas of English: spelling, grammatical
structure and usage, as well as oracy
z
z
Comprehensive development of writing skills including
composition crafting
,
process writing
,
journal writing
,
short story writing
and
descriptive writing
z
z
Special attention given to Creole usage, highlighting the differences between
the Creole form of language and standard Jamaican English
z
z
Includes a
wide variety of stimuli
: prose passages, advertisements, directories,
cartoons, graphs, exciting illustrations, poetry and recipes
Key Features
Look Out For!
Sections on:

note taking

report writing

book reviews

portfolio
preparation

letter writing
(social and business)
ISBN: 978 976 638 021 2
Pages: 370
Age group:10–13 years
ASSESSMENT/REVISION
P
rimary
A
comprehensive revision guide with an integrated approach that exposes
the links between concepts covered at the upper primary level. Simple
language, displays, tables and other graphic organizers are used to simplify
scientific principles to ensure understanding of the concepts. A strong workbook
component is included to ensure that students understand the concepts.
Paulette Chedda

Doreth McFarlane

Hortense Morgan

Ruth Dorothy Pottinger
z
z
Key concepts and vocabulary are listed at the beginning of each unit
z
z
Key points provide concise summary statements of the concepts covered in each unit
z
z
An
indexed glossary
gives the location and definition of important words
z
z
End of Unit Assessments
and
End of Section Tests
z
z
Save the Earth
questions and activities challenge students to apply their
understanding to environmental problems
Key Features
Look Out For!
z
z
Study Tips
helping students to memorize and recall important points
z
z
Web links
suggest websites for further discovery and activities related to a topic
z
z
Making Connections
– an interesting cross-referencing tool that helps the reader to find other materials related
to a particular topic in the book
ISBN: 978 976 638 098 4
Pages: 320
Age group: 10–13 years
Award
BIAJ
T
his workbook is specially prepared for not only students sitting the GSAT in
Jamaica but is also useful for the CEE, SEA and CPEA examinations in other
schools in the region. Content areas and skills highlighted in Grades 4-6 science
curricula are the focus of test items.
z
z
Items test a wide range of skills: comprehension, analysis and inference
z
z
Appealing stimulus materials such as
maps
,
line graphs, bar graphs
and
pie charts
Key Features
Look Out For!
z
z
Pull-out answer sheets
ISBN: 978 976 638 001 4
Pages: 116
Age group: 8 – 10 years
Sonia Williams