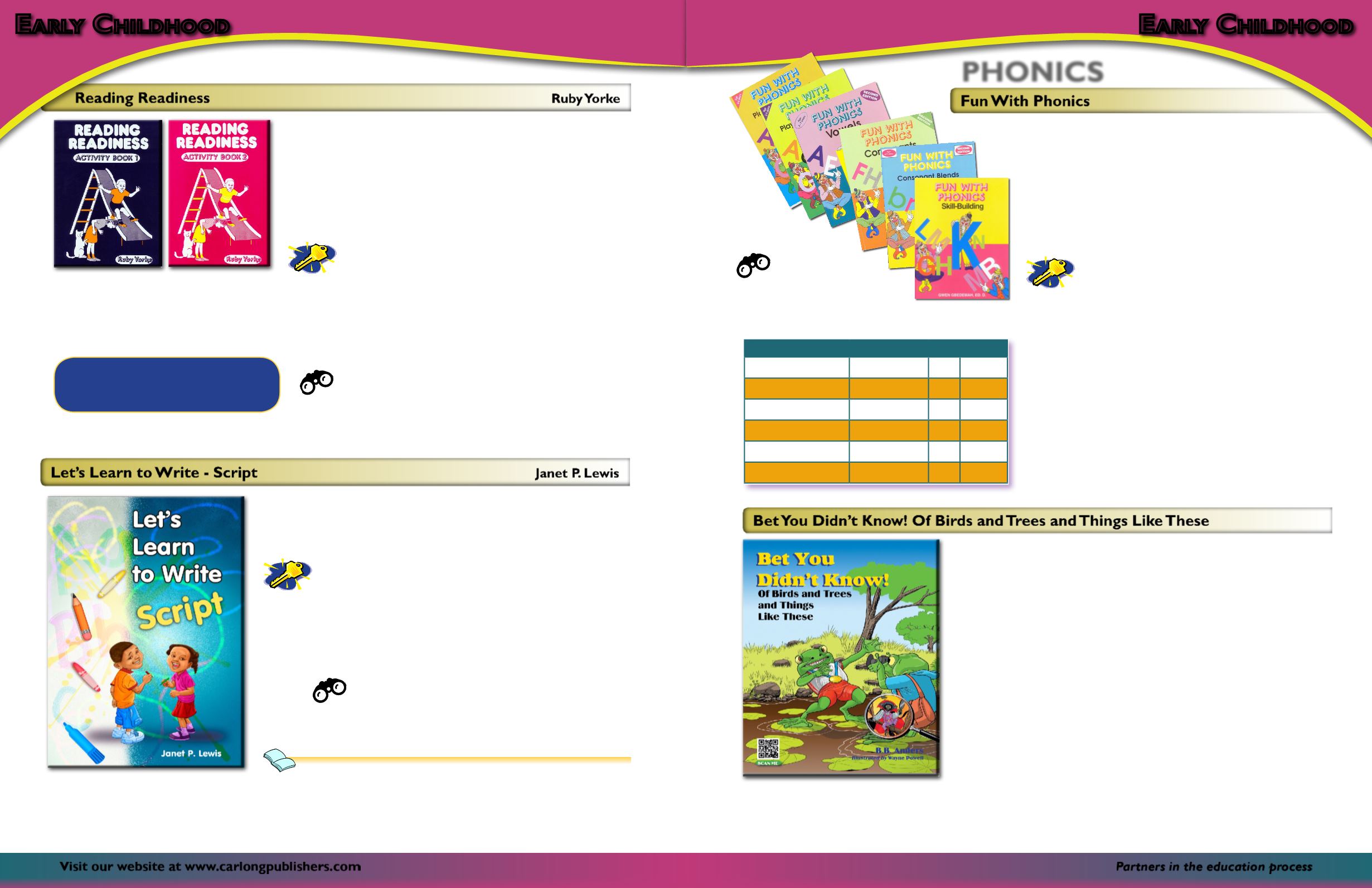 15
Partners in the education process
14
Visit our website at
www.carlongpublishers.com
E
arly
C
hildhood
ISBN: 978 976 8010 22 3
Pages: 32
Age group: 4–5 years
ISBN: 978 976 8010 23 0
Pages: 32
Age group: 5–6 years
B
eginners are introduced to basic pre-reading concepts through
creative activities. Using the integrated approach to learning,
activities are based on topics drawn from a wide range of subject
areas
.
Activity Book 1
presents preparation activities for reading.
Activity Book 2
introduces more challenging words and exercises,
broader concepts and more complex sounds.
NB
Let's Learn to Write
is the
complementary text to this course.
T
his revision of the popular
Let's Learn to Write - Book 1
is a
new workbook designed for the practice of precise writing
techniques. It provides essential preparation and unlimited
practice for learning to write script.
Key Features
z
z
Build concepts and vocabulary
z
z
Develop visual and auditory discrimination
z
z
Sharpen phonics skills
z
z
Develop sound reasoning skills and storytelling techniques
z
z
Develop and improve eye and hand coordination
z
z
Encourage the association of meaning with printed symbols
z
z
Readiness activities
and pre-writing patterns develop eye-hand
coordination and correct hand movement
z
z
Illustrations
provide visual stimulation and meaningful contexts
for pupils to write words and short sentences
z
z
Exercises
maintain pupils' interest and encourage learning
Key Features
Look Out For!
z
z
Lesson objectives on each page
z
z
Helpful notes for teachers and parents on the inside back covers
z
z
Detailed teaching notes on each page
Look Out For!
Let's Learn to Write – Cursive
is the second title in the series. The new
workbook provides practice for learning to write cursive using varied
writing techniques on reusable dry-erase paper inserts.
Forthcoming
ISBN: 978 976 638 203 2
Pages: 48
Age group: 4–6 years
PHONICS
Playing With Sounds – Parts 1 and 2
:
Sonia Johnson-Smith
Consonants, Vowels, Consonant Blends, Skill-Building
:
Gwen Gbedemah
A
comprehensive course introducing and building phonic
concepts and skills from beginning sounds to advanced
decoding and word usage. Its pupil-centred approach
enables pupils to learn from the self-contained instructions
and engaging illustrations.
Look Out For!
z
z
Stimulating and fun activities
z
z
Assessment exercises
z
z
Valuable notes to guide the teacher and parents
Key Features
z
z
Playing With Sounds Parts 1
and
2
introduce beginners to
letter sounds, give practice in handwriting, build sight word
vocabulary and develop reading skills
z
z
Consonants
enables pupils to recognize and write initial,
medial and final consonants, and to associate each letter
with its sound(s)
z
z
Vowels
helps pupils to recognize and associate vowels with
their sounds, and to discriminate between long and short
vowel sounds
z
z
Consonant Blends
facilitates visual and written
discrimination of blends and develops dictionary, spelling
and vocabulary skills
z
z
Skill-Building
provides comprehensive coverage of the
critical areas of phonics and develops advanced decoding,
word-building and usage skills
Book Title
ISBN
Pages Age Group
Playing With Sounds Part 1 978 976 8010 94 0 56
4–5 years
Playing With Sounds Part 2 978 976 8010 95 7 56
5–6 years
Consonants
978 976 8010 91 9 112 5–7 years
Vowels
978 976 8010 92 6 100 5–7 years
Consonant Blends
978 976 8010 93 3 120 6–9 years
Skill-Building
978 976 8010 75 9 104 8–10 years
E
arly
C
hildhood
T
he book features rhyming verses which describe the special
characteristics of various animals and plants about which children will
enjoy learning.
The illustrations and caricatures have been designed in vivid colours to hold
the child's attention and make it an enlightening and fun-filled experience.
Children will learn new words and their meanings through context. Their
learning experience will also be broadened by conducting online research on
the featured plants and animals.
Packaged along with the book
are the following value-added components:
Creatureville board game
– this game requires players to employ strategic
thinking as they try to navigate dangerous paths to be the first person to
reach HOME. The players will face challenges of solving riddles, and lots of
exciting twists and turns. But players have to be familiar with the book which
is linked to the game.
Creatures of the World Map
– users will see and get to familiarize themselves
with the actual locations of the creatures mentioned in the reader. The map
will also be useful for reference in classroom when teaching about the world.
Children can be encouraged to make up games using the map.
B.B. Anders

Illustrated by Wayne Powell
ISBN: 978 976 638 172 1
Pages: 56
Age group: 6–8 years