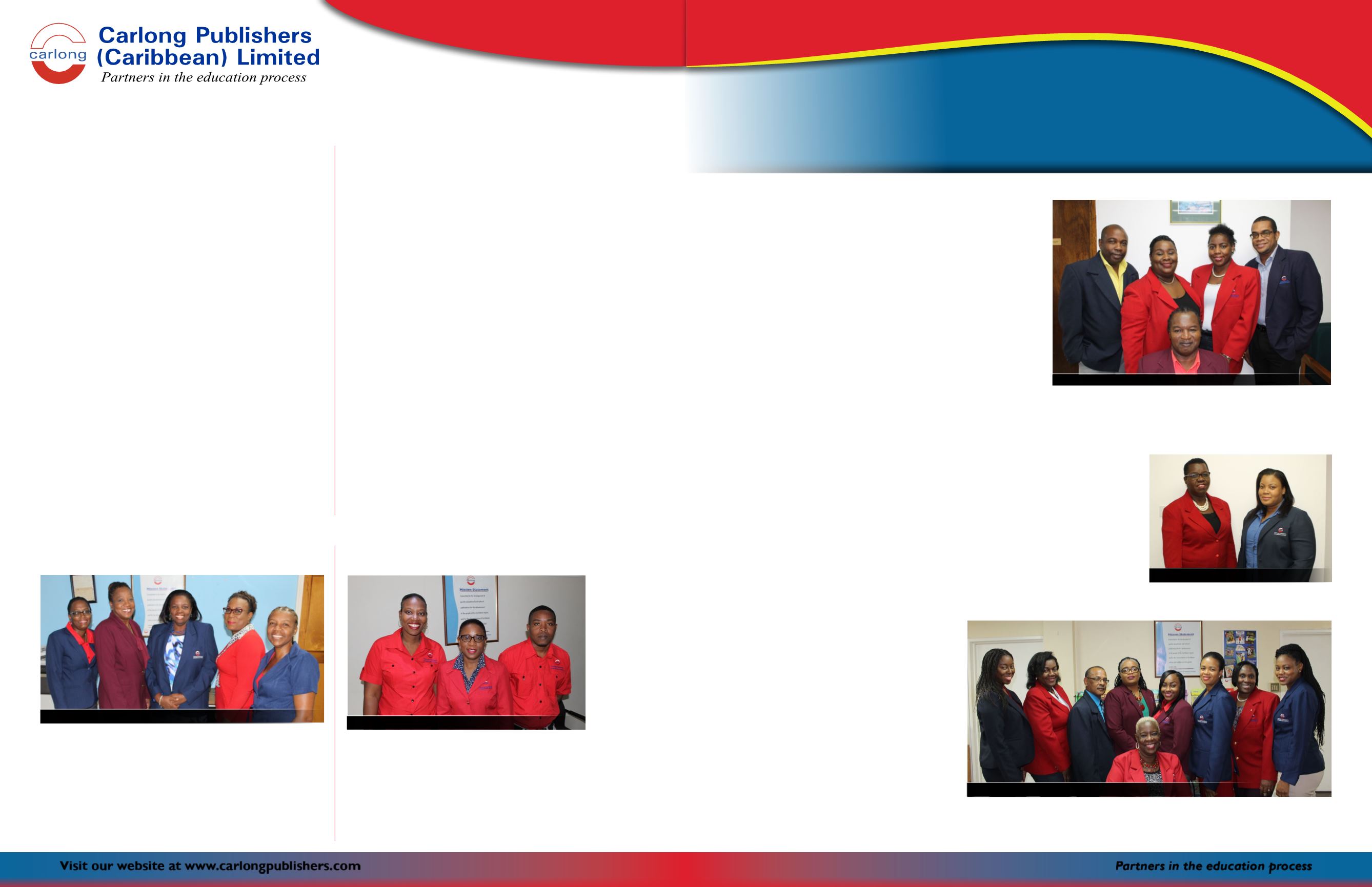 5
Partners in the education process
4
Visit our website at
www.carlongpublishers.com
I
n pursuit of our mission, Carlong's Executive
Management Team, comprising Chief Executive
Officer (CEO)
Lorna Allen
, General Manager (GM)
Jason
Carby
and General Manager
Candice Carby
, directs
the company's publishing, marketing and distribution
operations from three locations in Kingston and St
Andrew, Jamaica. CEO Lorna directly oversees the
Finance and Accounting and Publishing Departments
from her base at 17 Ruthven Road, Kingston 10. GM
Candice, also located at 17 Ruthven Road, has oversight
responsibility for the Marketing, Human Resources and
Information Technology Departments. GM Jason, who
is based at 37 Second Street, Newport West, oversees
the Distribution Logistics and Facilities and Operations
Departments. Our Internal Audit Unit reports directly to
the Board of Directors.
In addition to our own educational and cultural
publishing at the early childhood, primary, secondary
and post-secondary levels, Carlong provides exclusive
distribution services in Jamaica for Hodder Education
(which, in 2015, acquired the former Pearson Education,
Longman, Ginn, and Rigby publications).
As a pioneering indigenous Caribbean publishing
company, Carlong has given dynamic leadership to
the development of the book industry in the region.
Carlong's Chairperson Shirley Carby was the founding
President of the Book Industry Association of Jamaica
(BIAJ) in 1989. This unique umbrella organization
serves all sectors of the industry in joint development
initiatives, improved standards of service to the public
and a joint lobby on issues affecting the industry.
Shirley Carby also pioneered, on behalf of the BIAJ, the
establishment of the Jamaican Copyright Licensing
Agency (JAMCOPY), a collective management agency for
reproduction rights in text and image-based works. As
Founding Chairperson of JAMCOPY, Mrs Carby assisted
in setting up similar agencies in Trinidad, Barbados,
the Organization of Eastern Caribbean States and
Belize. JAMCOPY also spearheaded the formation of the
JamaicanWriters Association (JaWS) and collaborated
with them in initiating the
Lignum Vitae Writing Awards
.
Carlong is ever conscious of its role as both a
commercial and a cultural enterprise. We discover and
train authors and other industry professionals, expand
the skills and knowledge base of Caribbean societies
and record their heritage for dissemination within and
beyond their shores. We work with other partners in the
education process to promote literacy and the reading
habit across the Caribbean region, and to build identity
awareness and cultural confidence in the Caribbean's
unique contribution to the global community.
IntroducingTeam Carlong
Finance &Accounting
F
inancial Controller
Esther McDonald
manages
this department from offices at 37 Second Street,
Newport West where budgets are co-ordinated,
financial resources allocated and monitored, and
financial reports and statements generated for all
departments, shareholders and government.
Internal Audit
O
ur Internal Audit team, headed by
Camelle Ricketts
Moore
, is based at 37 Second Street. The team
evaluates business processes and operations in all
departments and recommends improvements to add
value.
From left:
M. Graham, D. Francis, E. McDonald, P. Nevers, A. Dixon
Finance & Accounting
Internal Audit Unit
From left:
P. Lyons, C. Ricketts Moore, S. Moodie
Mission
Statement
Committed to the development of quality
educational and cultural publications
for the advancement of the people of the Caribbean region and for the
dissemination of Caribbean culture and traditions
to the global community.
Publishing
L
ed by Publishing Manager
Sonia
Bennett
, our Publishing
Department has been intensifying its
multimedia development programme to
meet the needs for e-learning materials
in Caribbean schools. A variety of
approaches is being utilized including
partnerships with external platform
providers. You can be assured of the
same high quality of editorial direction,
curriculum focus and contextual relevance
that has earned your preference for the
Carlong brand.
From left:
D. Callam, R. Lewis Stone, D. Clayton, A. Small Brown, N. McFarlane, J. Bramwell,
A. Williams, F. Edwards,
Seated
: S. Bennett
Publishing
Human Resource Management
U
nder the leadership of
Sharon Hermitt
, this department provides the
critical function of mobilizing staff in all departments to high levels
of performance and productivity, through effective recruitment strategies,
ongoing performance management, relevant training and development
programmes and attractive incentives and rewards.
From left:
S. Hermitt, J. Ewart
Human Resource
Marketing
O
ur dynamic marketing team, headed by Marketing
Manager
Vinton Samms
, is in constant touch with
the market via personal visits, product launches, seminars
and workshops, as well as media advertising to ensure
our publications are widely known and adopted. With the
acquisition of the IRP publications our Export
Development Manager
Bernadene Blake-McCalla
now has
a wider product range to generate further growth in the
export market.
We invite you to visit our showroom at Building 3, 17
Ruthven Road to see the full range of Carlong publications.
You can view them as well on our website at
www.carlongpublishers.com
where a wealth of information
awaits you.
From left:
D. Shorter, B. McCalla, O. Edwards, N. Bromfield
Seated
: V. Samms
Marketing