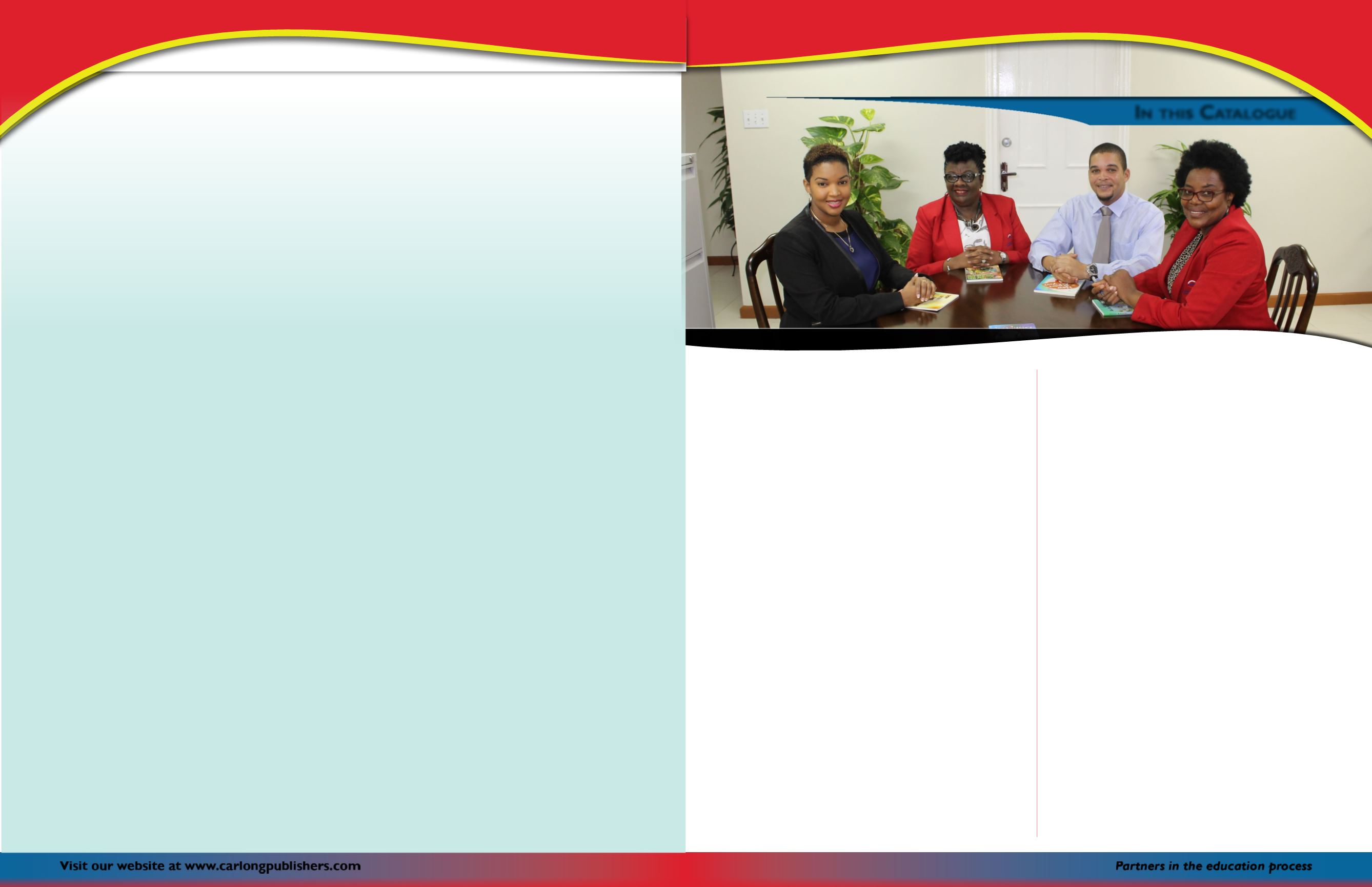 3
Partners in the education process
Visit our website at
www.carlongpublishers.com
Executive Management
Dear Partners in Education
I
n
this
C
atalogue
W
e welcome you to the dawn of a new era in
Carlong's development, as our Founding Directors
retire from Executive Management and the mantle
passes to a new generation. The mission remains
steadfast, however, to develop quality multimedia
learning materials that are contextually relevant,
and responsive to the requirements of curricula and
examinations across the region. To this end, we offer
you exciting new products at all levels of the education
system.
At the early childhood level, we complete our new
Bintah Series
of stimulating adventures for beginning
readers, with accompanying funbooks and other
learning aids for literacy and numeracy development.
Our new primary level
Adventures Series
in Language
Arts and Mathematics adopt the innovative play,
discover and share approach which will engage
students' interest and enhance acquisition of critical
literacy and numeracy skills.
In the area of quality creative literature for the
classroom as well as for individual pleasure reading, we
introduce
Expressions
, a new series for young adults.
These new titles build on the literary foundation laid by
our
Sand Pebbles Pleasure Series
at the primary level,
fostering identity awareness and cultural confidence.
To assist students in preparing for School Based
Assessment at the CSEC
®
level, we introduce a new
series of student guides offering practical techniques,
skills development and approaches that will improve
performance in what many students find to be a
challenging undertaking.
We are heartened by your positive response to the
publications we have recently acquired from Ian
Randle Publishers (IRP) which
extend our range of
publications to the post-secondary level
. These include
pioneering titles for new subjects for the CAPE
®
exams,
introductory tertiary-level texts and vocational texts for
careers in key development areas for the Caribbean.
We began our multimedia development thrust a
decade ago with digital support for our textbooks
on accompanying CDs and DVDs, and continue to
widen the scope of our support to students, teachers
and parents through the provision of free online
digital resources for specific publications. We are also
developing audio/video-enhanced ebooks to enrich
students' learning experience. Through our partnership
with online distribution company BookFusion, you
can now purchase some of our literary titles digitally by
visiting
www.bookfusion.com/store/carlongpublishers
.
Please visit our mobile-friendly website
www.carlongpublishers.com
for more information
about our products and services and to download a
copy of our catalogue on your smart phone, tablet,
laptop or other device. You can also access resources
for extended learning on the site. Please 'like' our page
www.Facebook.com/carlong
, and follow us on Twitter
www.twitter.com/carlong123
or connect with our other
social accounts listed on the inside back cover of this
catalogue. We welcome your feedback, suggestions and
enquiries as we are constantly seeking to improve our
products and services in order to empower students to
develop their full potential.
Team Carlong
From left:
C. Carby, L. Allen, J. Carby, J. Green
THE CARLONG TEAM
Directors
Carl Carby
Shirley Carby
Dan Kelly
Lorna Allen
Candice Carby
Jason Carby
Locations
Executive Management
Publishing
Marketing &
Human Resource
Building 3,
17 Ruthven Road,
Kingston 10,
Jamaica, W.I.
(876) 960 9364-6
(876) 960 2080
(876) 920 9972
Finance & Accounting
Facilities & Operations
37 Second Street
Newport West
Kingston 13,
Jamaica, W.I.
(876) 923 7019
(876) 923 7008
Distribution Centre
38 First Street
Newport West
Kingston 13,
Jamaica, W.I.
(876) 923 6505-7
Executive Management Team
Lorna Allen
Candice Carby
Jason Carby
Juliet Green
Finance & Accounting
Esther McDonald
Donna Gordon-Francis
Marvalyn Graham
AnnMarie Dixon
Paulette Nevers
Bobette Francis
Internal Audit
Camelle Ricketts-Moore
Peta-Gaye Small-Lyons
Samuel Moodie
Facilities & Operations
Donald Tomlinson
Ava Baker
Floyd Fender
Kori Johnson
Beyon Pink
Glensener Burton
Elaine Young
Johnny Nelson
Donnette Phillips
Ian Campbell
Carl Williams
Distribution Logistics
Racquel McLean
Customer Relations Management
Delores Grant-Smith
Tannishea Roache-Hanson
Donald Lawrence
Distribution Centre
Dave Edwards
Erpha Lewinson
Wayne Thompson
Rose McCotie
Sidney Beckford
Vincent Scott
Human Resource Management
Sharon Hermitt
Julie Ann Ewart
Information Technology
Omar Reid
Doren Burke
Shyan Lawrence
Robert Gordon
Kamica Wilson
Publishing
Sonia Bennett
Joy-Ann Bramwell
Diedre Callam
Rose Lewis Stone
Fiona Edwards
Nemeica McFarlane
Andrae Francis
Amba Small-Brown
Allanesia Brown
Tamara Noel
Althea Williams
Marketing
Vinton Samms
Bernadene Blake-McCalla
Nicklaus Bromfield
Domian Shorter
Oraine Edwards
Chief Executive Officer/Managing Director
General Manager
General Manager
Executive Administrator
Financial Controller
Chief Accountant
Budget Accountant
Executive Administrator
Accounting Supervisor
Collections & Credit Officer
Internal Audit Manager
Internal Auditor
Trainee Internal Auditor
Facilities & Operations Manager
Facilities & Operations Administrator
Bearer
Building Maintenance Assistant
Bearer
Office Assistant/Receptionist
Office Assistant
Office Assistant
Receptionist
Maintenance Worker
Maintenance Worker
Distribution Logistics Manager
Customer Service Administrator
Senior Customer Service Representative
Customer Service Representative
Warehouse Manager
Textbook Purchasing Officer
Warehouse Supervisor
Distribution Logistics Administrator
Warehouse Foreman
Senior Warehouse Attendant
Human Resource Manager
Human Resource Administrator
Information Technology Manager
IT Security & Systems Administrator
IT Business Analyst
Application Support Specialist
Administrative Assistant
Publishing Manager
Commissioning Editor
Commissioning Editor
Senior Editor
Editor
Production Controller
Illustrator
Digital Content Coordinator
Publishing Services Executive
Production Services Executive
Administrative Assistant
Marketing Manager
Export Development Manager
Marketing Representative
Marketing Representative
Administrative Assistant