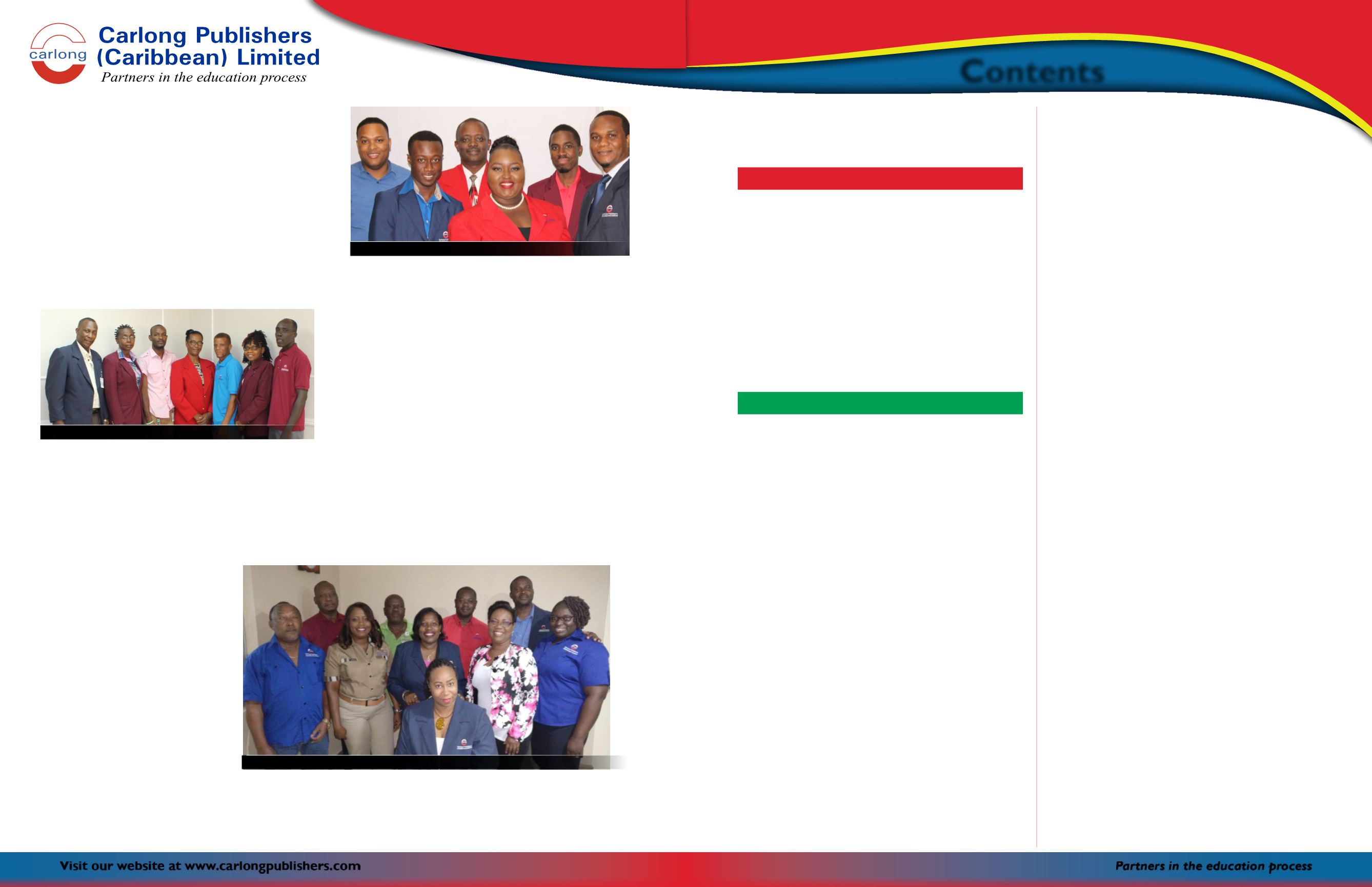 7
Partners in the education process
6
Visit our website at
www.carlongpublishers.com
Distribution Logistics
F
ormerly Sales and Distribution,
this department has been
renamed in keeping with modern
trends in supplies management.
With the promotion of the former
Department Manager, Lorna Allen,
to the new post of CEO, we welcome
Racquel McLean
who has extensive
experience with Carlong, as the
new Manager of this department.
Racquel is based at our Distribution
Centre at 38 First Street, Newport
West, where stocks of all Carlong
and Hodder Education publications
are warehoused. Our Customer
Service personnel process orders
and enquiries from 37 Second Street,
Newport West. They keep our retail
bookshop customers informed of
product availability and terms and
conditions of supply.
Standing:
V. Scott, D. Edwards, T. Roache-Hanson, S. Beckford, R. McCotie, D. Lawrence, E. Lewinson
J. Nelson, D. Grant-Smith,
Seated:
R. McLean
Distribution Logistics
InformationTechnology
T
he increasing importance of information technology
(IT) in all aspects of our operations led to the formation
of this department in 2016 under the management of
Omar Reid
. All IT systems, networks, databases, e-business
processes and security controls are planned, co-ordinated,
supported and maintained by this department.
Facilities and Operations
E
stablished in 2017, this new department will manage the
acquisition, maintenance, insurance and security of all
property – land, buildings, motor vehicles, furniture and
equipment. These administrative services were formerly
included in the then Admin, Finance and Accounting
Department.
S. Lawrence, M. Bryan, D. Burke, K. Wilson, R. Gordon, O. Reid
Information Technology
F. Fender, D. Phillips, B. Pink, E. Young, C. Williams, A. Baker, I. Campbell
Facilities & Operations
Contents
Team Carlong �������������������������������������������������������������������1
Introducing Team Carlong ������������������������������������������ 2–4
New Books �������������������������������������������������������������������� 8–9
Early Childhood/Primary
Bintah Series
Meet Bintah – Reader and Fun Book * Bintah Takes A Trip
– Reader and Fun Book * How Bintah Got Her Jewels
– Reader and Fun Book �������������������������������������������������� 10–11
Reading Readiness Series
Activity Book 1 & Book 2 ������������������������������������������������������ 12
Let's Learn to Write Script �������������������������������������������������������� 12
Fun With Phonics Series
Playing With Sounds – Parts 1 & 2 * Consonants
* Vowels * Consonant Blends * Skill-Building����������������� 13
Bet You Didn't Know!���������������������������������������������������������������� 13
Primary
ASSESSMENT AND REVISION
Gateway to Literacy
Carlong Integrated Assessment Papers –
Language Arts
Book 1 * Book 2 * Book 3 * Book 4������������������������������ 14–15
How Smart Are You? Reasoning and Problem–solving ���������� 16
Carlong Literacy Skills�������������������������������������������������������������� 16
Carlong Numeracy Skills���������������������������������������������������������� 17
Carlong Assessment Tests
Interpreting Graphs, Tables and Charts ������������������������������ 17
Gateway to Numeracy
Carlong Integrated Assessment Papers –
Mathematics
Book 1 * Book 2 * Book 3 * Book 4������������������������������ 18–19
Carlong Revision Guides
Junior English
������������������������������������������������������������������������ 20
Junior Mathematics ��������������������������������������������������������������
20
Junior Science������������������������������������������������������������������������ 21
Carlong Assessment Tests for GSAT – Science������������������������� 21
Carlong Integrated Practice Tests (CIPT) Series
Science * Social Studies * Mathematics
* Language Arts �������������������������������������������������������������� 22–23
Carlong Communication Tasks ����������������������������������������������� 23
INTEGRATED STUDIES
Carlong Primary Integrated Studies (CPIS)
Year 1
Getting To Know Me * Getting to Know My Body
* Getting To Know My Family * Getting To Know
My Home * Getting To Know My School ���������������������������� 24
Year 2
Inside My Body * Taking Care of Myself
* Living Together as a Family * Satisfying
Our Needs * In My Community ������������������������������������������� 24
Year 3
Knowing and Taking Care of My Body * Living
and Sharing with Others * Sharing and Providing
Goods and Services * Living and Non-Living
Things In My Environment * Learning About
Our Culture ��������������������������������������������������������������������������� 25
LANGUAGE ARTS
Adventures Series – Primary Language Arts
Book 1 ������������������������������������������������������������������������������������ 26
Carib Language Arts Series (CLAS)
Primary Level 2A: All About Me * Primary
Level 2B: All About Caring and Sharing
* Primary Level 3: Other Times, Other Places,
Other People �������������������������������������������������������������������������� 27
Live Language: A Writing and Comprehension
Course for Juniors
Book 1 * Book 2 * Book 3���������������������������������������������������� 27
Smart Speller – An integrated approach
Book 1 * Book 2 * Book 3���������������������������������������������������� 28
LITERATURE
Anansesem: A Collection of Caribbean Folk Tales,
Legends and Poems for Juniors ��������������������������������������������
28
Sand Pebbles Pleasure Series
Every Little Thing Will Be All Right * Jenny and the General
* Little Island – Big Adventures * Miss Bettina's House
* Tek Mi! Noh Tek Mi! * Bernie and the Captain's Ghost
* Freedom Come * Island Princess in Brooklyn
* Jojo's Treasure Hunt * Forest Fever
* Ash the Flash ���������������������������������������������������������������� 29–31
RELIGIOUS EDUCATION
Carlong Primary Religious Education
Year 4 * Years 5 & 6 ��������������������������������������������������������� 32