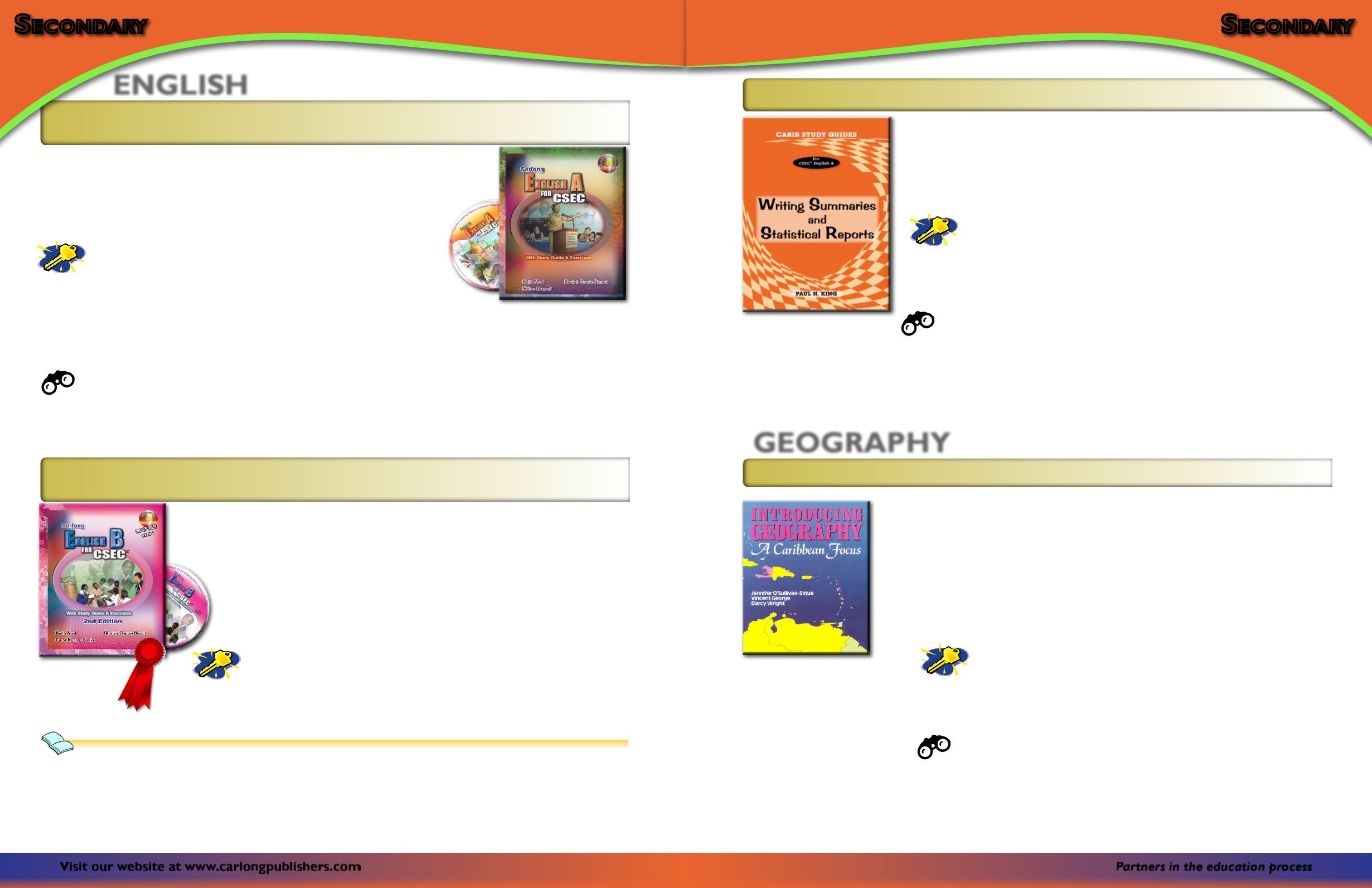 43
Partners in the education process
42
Visit our website at
www.carlongpublishers.com
Carlong English A for CSEC
®
With Study Guide & Exercises
S
econdary
Carlong English B for CSEC
®
With Study Guide & Exercises – 2nd Edition
ENGLISH
z
z
Practice in developing aspects of
short story writing
, i.e. plot, setting and
character
z
z
A number of rich descriptive passages and visual stimuli help students build
their appreciation for, and develop their skills in
writing descriptive essays.
z
z
Persuasive writing activities
help students to distinguish between fact and opinion
z
z
Mastering Paper 1
comprises multiple-choice items that cover grammar,
comprehension, spelling and correct usage of Standard English
Key Features
T
his comprehensive study guide describes, analyses and demonstrates
literary
evaluation of poems, drama
and
prose extracts
.
Worked examples
take students
through the process of answering specific questions.
The accompanying
interactive DVD
explores the curriculum further and
focuses on topics which students find most challenging.
ISBN: 978 976 638 091 5
Pages: 320
Age group: 15–17 years
Keith Noel

Sheilah Garcia-Bisnott

Milton Drepaul
Look Out For!
z
z
Quick quizzes
on the interactive DVD and special focus on
the most challenging topics
z
z
Two full papers simulating the CSEC
®
examination
z
z
Glossary
of literary terms and terms frequently used in the
examination
z
z
Summary Writing
section provides invaluable guidance
T
his edition presents comprehensive and insightful training in appreciating
poetry,
drama
and
prose,
and prepares students thoroughly for the examination.
It retains the core features of the previous edition. It builds the skills required for
success through extensive illustration of the process involved in analyzing 'seen'
and 'unseen' extracts and other activities.
The
accompanying CD
illuminates further aspects of the study of literature that
students find particularly challenging.
ISBN: 978 976 638 108 0
Pages: 322
Age group: 14–17 years
Keith Noel

Sheilah Garcia-Bisnott

Carol Hunter-Clarke
z
z
In-depth discussion and analysis of numerous poems, play-texts and prose extracts
z
z
Detailed treatment of the language of literary criticism
z
z
Useful practice from numerous exercises and simulated examination papers
Key Features
Award
BIAJ
Carlong English B for CSEC
®
– 3rd Edition
A complete revision of the 2nd Edition which retains the format and offers more practice exercises.
Carlong English SBA for CSEC
®
: A Student's Guide
This provides a practical step-by-step guide for students to successfully complete their SBAs.
Carlong English B Practice Paper 1
This gives extensive guidance and practice in CSEC's new multiple-choice format for the English B Paper 1
examination.
Forthcoming
Carib Study Guides: Writing Summaries and Statistical Reports
Paul H. King
ISBN: 978 976 638 022 9
Pages: 112
Age group: 15–18 years
A
practical step-by-step guide widely used across the Caribbean, which assists
students in preparing for the section of the CSEC
®
English A examination
which requires mastery of the skills of comprehension and organizing
information into clear and cohesive reports.
Look Out For!
z
z
Explanation and examples of basic terminology for statistical reports
S
econdary
T
his text introduces basic
geographical concepts
and skills to students at the
lower secondary level, using
Caribbean illustrations
,
examples
and
case studies
.
Both the
natural
and
created (built) environment
are described and the
human
activity
in both examined in the context of
environmental awareness
.
There are a variety of visual stimuli, which help students to develop a range of
geographical skills, and help teachers to monitor students' progress on a continual
basis.
Jennifer O'Sullivan-Sirjue

Vincent George

Darcy Wright
ISBN: 978 976 8010 46 9
Pages: 228
Age group: 11–13 years
z
z
Introduces a variety of practical geographical skills
z
z
Provides a solid foundation for further studies in geography at the CSEC
®
level
z
z
Develops a critical awareness of and continuing interest in the environment
Key Features
Introducing Geography – A Caribbean Focus
Look Out For!
z
z
Graphs
z
z
Case Studies
z
z
Review assignments
z
z
Fieldwork assignments
GEOGRAPHY
z
z
A step by step approach to build the students' confidence
z
z
The material focuses on those skills which students have difficulty in mastering
z
z
A wide range of practice exercises
Key Feature