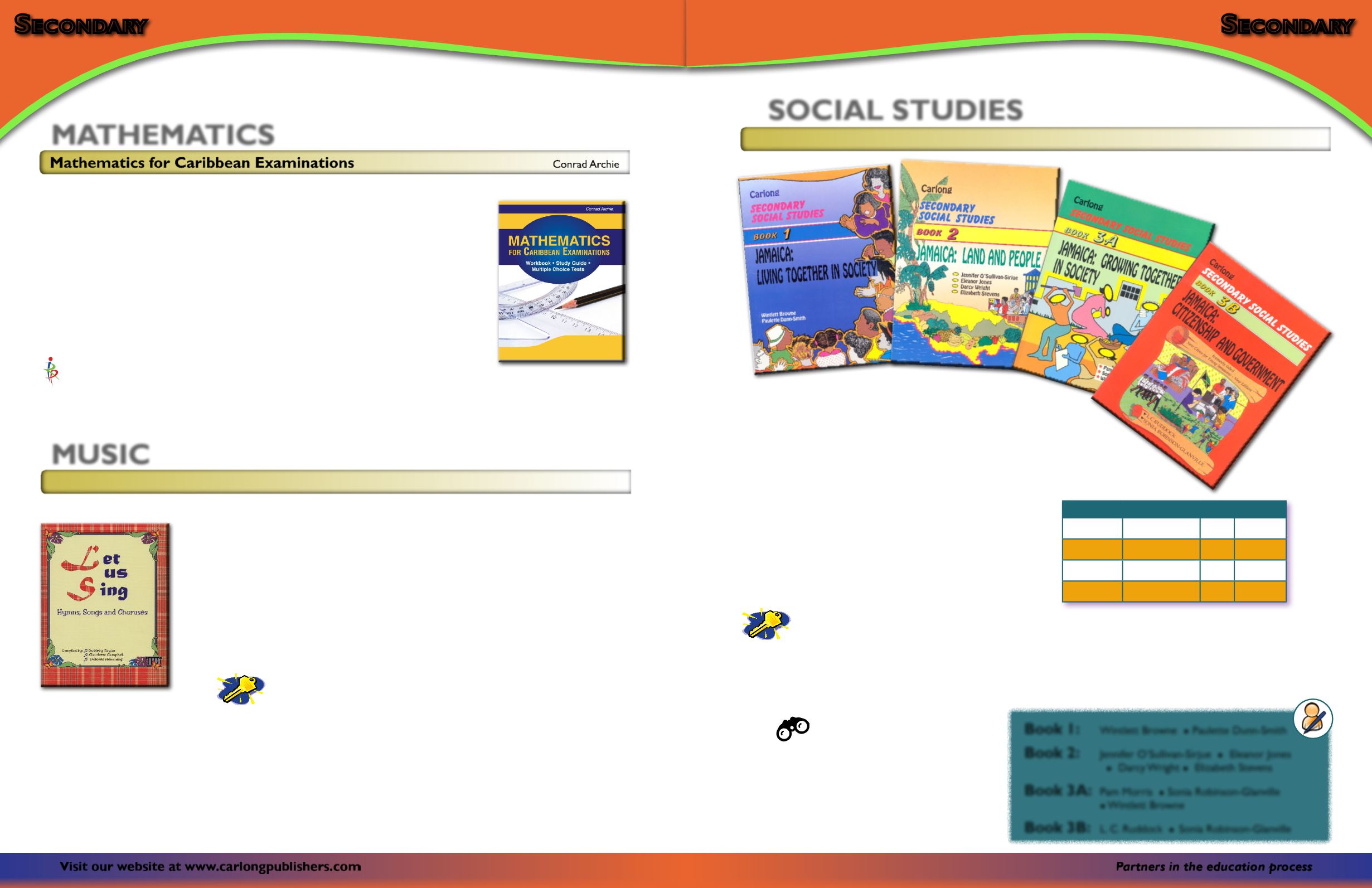 S
econdary
S
econdary
47
Partners in the education process
46
Visit our website at
www.carlongpublishers.com
MATHEMATICS
M
athematics for Caribbean Examinations: Workbook, Study Guide and Multiple
Choice Tests
is the desired study companion for students preparing for the
CSEC
®
Mathematics examination.
It provides detailed explanation on the various topics, concepts and mathematical
principles required for study by the syllabus, equipping students with the solid
foundation they need to master all the topics which fall under the general areas:
Number Theory and Computational Statistics, Algebra, Sets and Geometry.
Worked examples are provided to instruct students on different problem-solving
techniques. Practice exercises and multiple choice tests with answers at the end of
each topic will reinforce students' understanding of key concepts and build their
confidence ahead of exams.
(formerly published by Ian Randle Publishers)
ISBN: 978 976 637 803 5
Pages: 510
Age group: 15–18 years
MUSIC
Godfrey Taylor

Claudette Campbell

Dolores Flemming
ISBN: 978 976 638 089 2
Pages: 208
Age group: 8–Adult
A
n ecumenical collection of over 100 hymns, songs and choruses – Caribbean
favourites, with their own unique
rhythms such as reggae
,
calypso and
mento
, are
blended with traditional European and American hymns and African-
American
spirituals
. Selections were chosen for theological as well as musical
value and cover a wide denominational base.
Let Us Sing
will appeal to both the school and church communities for worship
sessions as well as to all who delight in music for inspiration and general
enjoyment.
z
z
Selections arranged thematically:
Praise
,
Thanksgiving
,
Christian Living
,
Faith and Reassurance
z
z
Inclusion of
musical score
for the melody line and chord patterns
z
z
Inclusion of many Caribbean favourites by some of the best known Caribbean
hymn writers and composers of religious music
Key Features
Let Us Sing: Hymns, Songs and Choruses
SOCIAL STUDIES
Carlong Secondary Social Studies Series
T
he series lays the foundation for further studies in
geography, social studies and history, with scope for
integration across the curriculum. Developed specifically
for the Jamaican curriculum and adopted by the MOEYI,
the series is also recommended for public and home
libraries.
Book 1
explores Jamaica's history and cultural heritage,
as well as health and family issues;
Book 2
focuses on the land and people of Jamaica;
Book 3A
presents nation builders, occupations and
employment, consumer affairs and population
issues;
Book 3B
examines citizenship and government.
z
z
Traditional and formal methods of assessment such as
essays
,
short-answer
questions
and
multiple-choice tests
z
z
Student-centred activities
such as portfolio assessment, can-do assessment,
observational schedules and checklists
z
z
Problem-solving approach with strong
focus on group and project work
Key Features
Look Out For!
z
z
Visual stimuli e.g.
line drawings
,
maps
,
plans
,
photos
,
graphs
,
tables
,
charts
Book Title
ISBN
Pages
Age group
Book 1
978 976 8010 86 5
272 11–13 years
Book 2
978 976 8010 99 5
296 12–14 years
Book 3A
978 976 8010 87 2
304 13–15 years
Book 3B
978 976 638 007 6
200 14–16 years
Book 1:
Wintlett Browne

Paulette Dunn-Smith
Book 2:
Jennifer O'Sullivan-Sirjue

Eleanor Jones

DarcyWright

Elizabeth Stevens
Book 3A:
Pam Morris

Sonia Robinson-Glanville

Wintlett Browne
Book 3B:
L. C. Ruddock

Sonia Robinson-Glanville