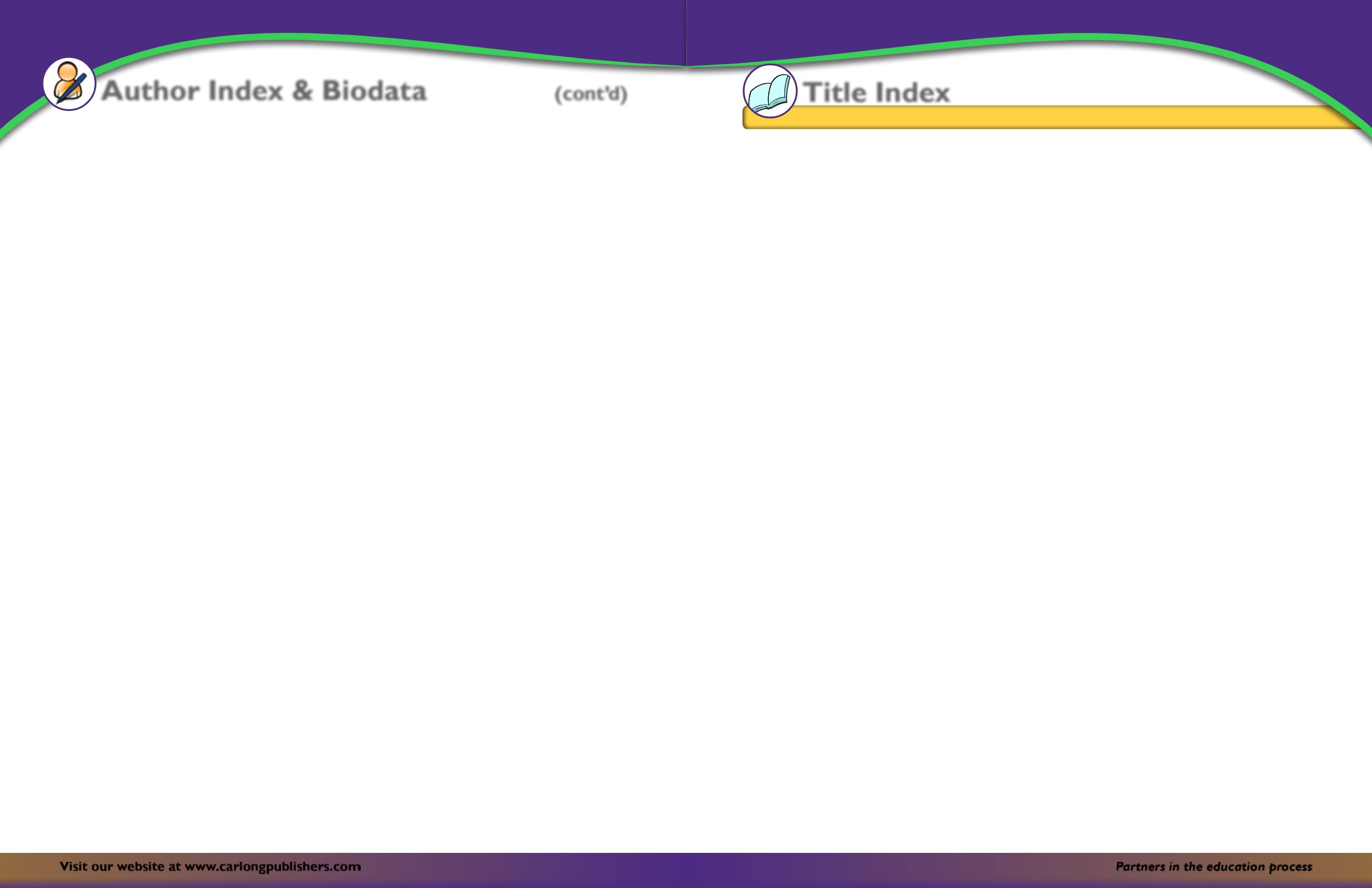 59
Partners in the education process
58
Visit our website at
www.carlongpublishers.com
Mervyn C. Sandy
, PhD – retired as principal of Tranquility
Secondary School in Trinidad and now works as an education
consultant. He has had many years of experience as an
examiner in regional examinations.
Cherrell Shelley-Robinson,
PhD – is a former senior lecturer
in the Department of Library and Information Studies, UWI,
Mona. An expert on Caribbean children's literature, she is an
established author who has written extensively for children's
radio programmes and magazines.
Elizabeth Sherman
– is an experienced educator who was
a former principal of a preparatory school and taught at the
primary level for many years.
Alecia Sawyers
– is a successful teacher with over 25 years'
experience at Vaz Preparatory School.
Hazel Simmons-McDonald
– is the Pro-Vice Chancellor and
Principal of the University of theWest Indies Open Campus.
She writes poetry and fiction as a hobby and has published
works in both genres.
Viviene Smart
– is an experienced lecturer at a teachers'
college in Jamaica, specializing in geography.
Y
Yvonne Solomon-Nelson
– was an experienced teacher at
the preparatory level in both Jamaica and The Bahamas.
Lystra Stephens-James
– is the Dean at Holy Faith Convent,
Couva and a part-time lecturer at School of Higher Education,
Trinidad. She is the co-author of two textbooks, CAPE
Accounting and Principles of Accounts for Caribbean
Examinations.
Elizabeth Stevens
– is a former teacher at the secondary level
in Jamaica.
Thelma Stewart
,
PhD – was a distinguished home economics
educator who retired as Acting Chief Education Officer with
the MOE, Jamaica. She has written extensively on home
economics and family life education.
Lorna Sue-Ho
– had a distinguished career in science
education. She was Head of the Science Division at Mico
Teachers' College and also served as a regional examiner for
chemistry.
Godfrey Taylor
– is an accomplished church musician and
former music director at Providence Methodist Church,
Kingston, Jamaica. He has been a church organist since 1973
and has taught music for a number of years.
Wintlett Taylor-Browne
– is an experienced educator who
taught social studies at the high school and college levels.
Marcia Thomas-Powell
– is the principal of Cascade Primary
School and is a curriculum and instruction specialist with over
26 years' experience at the primary, secondary and tertiary
levels.
John Tracey
– lectured at MIND in Kingston, Jamaica for many
years. He taught at the secondary level and is an experienced
examiner of principles of accounts in regional examinations.
Marjorie Vassell
– is a distinguished teacher of geography at
the secondary level and served as Curriculum Development
Officer for social studies in the MOE.
Evelyn 'Evie' Vernon,
PhD – lectured at the United Theological
College of theWest Indies. She has served regional bodies as a
consultant in religious education.
June Cezair Wallace
– is a former teacher at the secondary level
who helped to develop Jamaica's national history curriculum.
She is also a former CXC History examiner.
Valomia Weir
– is an experienced Grade 6 teacher at the
Constant Spring Primary and Junior High School, Jamaica.
Donna Werdenie
– is a graduate of Shortwood Teachers'
College and has been a classroom teacher for over 14 years
with experience at both the early childhood and primary levels.
Jennifer Williams,
PhD – holds a PhD in Spanish and
participated in the process of development of the Caribbean
Advanced Proficiency Examination (CAPE
®
) in Spanish.
Sheryl Williams
– heads the Religious Education Department
of Spanish Town High School, Jamaica.
Sonia Williams
– is a former senior lecturer in general science
at Shortwood Teachers' College, Jamaica and a former
education officer with the MOEYI.
Cynthia Williams-Cooke
– is a mathematics teacher whose
many years of experience span the early childhood to
university levels.
Adlyn Wilson
– was for many years principal of a primary
school in Jamaica.
Don Wilson
,
PhD – is an educator, researcher and writer, who
is renowned for his expertise in the field of language arts. His
groundbreaking LMW series was used in Jamaican primary
schools for decades. He is a former Director of the School of
Education, UWI, Mona.
Colinnet Wiltshire-Brown
– is a Senior Lecturer in Religious
Education at Shortwood Teachers' College. Her areas of
specialization include Caribbean Religions.
Allison Wood-Pringle
– is a former principal of Aboukir
Primary School and is an early childhood and primary level
specialist.
Y
Darcy Wright
– worked formerly with the MOE, Jamaica,
to prepare social studies model units for both primary and
secondary levels.
Y
Ruby Yorke
– was a former Director of the Regional Pre-
School Child Development Centre, UWI, Mona, and an
education officer in charge of early childhood education in
St Lucia.
Author Index & Biodata
(cont'd)
For Quick and Easy Reference
All About Caring and Sharing
, 27
All About Me
, 27
Anansesem
, 28
Ash the Flash
, 31
Atlantic Interactions,
48
Bet You Didn't Know!
13
Bernie and the Captain's Ghost
, 30
Bintah Series:
Meet Bintah
, 10
Bintah Takes a Trip
, 10
How Bintah Got Her Jewels,
11
Caribbean Neighbours
, 35
Carlong Assessment Tests for GSAT:
Science,
21
Carlong Caribbean Drama for the
Classroom,
39
Carlong Economics for CSEC
®
, 36
Carlong English A for CSEC
®
, 40
Carlong English B for CSEC
®
, 40
Carlong Integrated Assessment Papers
(CIAP) Years 1-4
:
Language Arts
14–15
Mathematics
, 18–19
Carlong Integrated Practice Tests (CIPT)
for GSAT
:
Communication Tasks
, 23
Language Arts
, 23
Mathematics,
23
Science
, 22
Social Studies
, 22
Carlong Literacy Skills
–
New Edition, 16
Carlong Numeracy Skills,
17
Carlong Primary Religious Education:
Years 4–6
, 32
Carlong Principles of Accounts
for CSEC
®
, 36
Carlong Principles of Business
for CSEC
®
, 37
Carlong Revision Guides:
Junior English
– Second Edition, 20
Junior Mathematics
– Second
Edition, 20
Junior Science
, 21
Carlong Social Studies Essentials
for CSEC
®
, 46
Carlong Theatre Arts for CSEC
®
, 39
Certificate Management of Homes and
Families,
42
Chemistry SBA for CSEC
®
, 38
Complete Chemistry
, 38
Consonant Blends
, 13
Consonants
– Second Edition, 13
Contemporary Caribbean Tourism, 50
Creating a Nation: Jamaica
, 42
Entrepreneurship for Caribbean
Students,
47
Español avanzado,
49
Every Little Thing Will Be All Right
, 29
First Steps In Science:
FSIS Activity Book: Year 4
, 34
FSIS Activity Book: Year 5
, 34
FSIS Pupil's Book: Year 4
, 33
FSIS Pupil's Book: Year 5
, 33
FSIS Pupil's Book: Year 6
, 33
Forest Fever,
31
Freedom Come,
30
Garvey's Ghost,
43
Getting To Know Me
, 24
Getting To Know My Body
, 24
Getting To Know My Family
, 24
Getting To Know My Home
, 24
Getting To Know My School
, 24
How Smart Are You?,
16
In My Community
, 24
Inside My Body
, 24
Interpreting Graphs, Tables and
Charts,
17
Introducing Geography – A Caribbean
Focus
, 41
Island Princess in Brooklyn
, 30
Jamaica: Citizenship and Government
, 45
Jamaica: Growing Together
in Society,
45
Jamaica Island Nation
, 35
Jamaica: Land and People
, 45
Jamaica: Living Together
in Society
, 45
Jenny and the General
, 29
Jojo's Treasure Hunt
, 30
Knowing and Taking Care
of My Body,
25
Learning About Our Culture
, 25
Let's Learn To Write – Script,
12
Let Us Sing: Hymns, Songs and
Choruses,
44
Little Island – Big Adventures
, 29
Live Language – Book 1
, 27
Live Language – Book 2
, 27
Live Language – Book 3
, 27
Living and Non-Living Things In My
Environment,
25
Living and Sharing with Others
, 25
Living Together as a Family
, 24
Mathematics for Caribbean
Examinations,
44
Mind Games,
43
Miss Bettina's House
, 29
Other Times, Other Places, Other
People,
27
Our World Environmen
t, 35
Playing With Sounds – Part 1
, 13
Playing With Sounds – Part 2
, 13
Principles of Accounts for Caribbean
Examinations,
37
Reading Readiness Activity Book 1
,
12
Reading Readiness Activity Book 2,
12
Satisfying Our Needs
, 24
Sharing and Providing Goods and
Services,
25
Skill-Building
, 13
Smart Speller – Book 1
,
28
Smart Speller – Book 2
,
28
Smart Speller – Book 3
,
28
Sociology for Caribbean Students,
49
Sustainable Food Production Practices in
the Caribbean - Volumes 1 & 2,
49
Taking Care of Myself
, 24
Tek Mi! Noh Tek Mi
!, 30
Vowels
– Second Edition, 13
Writing in English,
47
Writing Summaries and Statistical
Reports,
41
Title Index