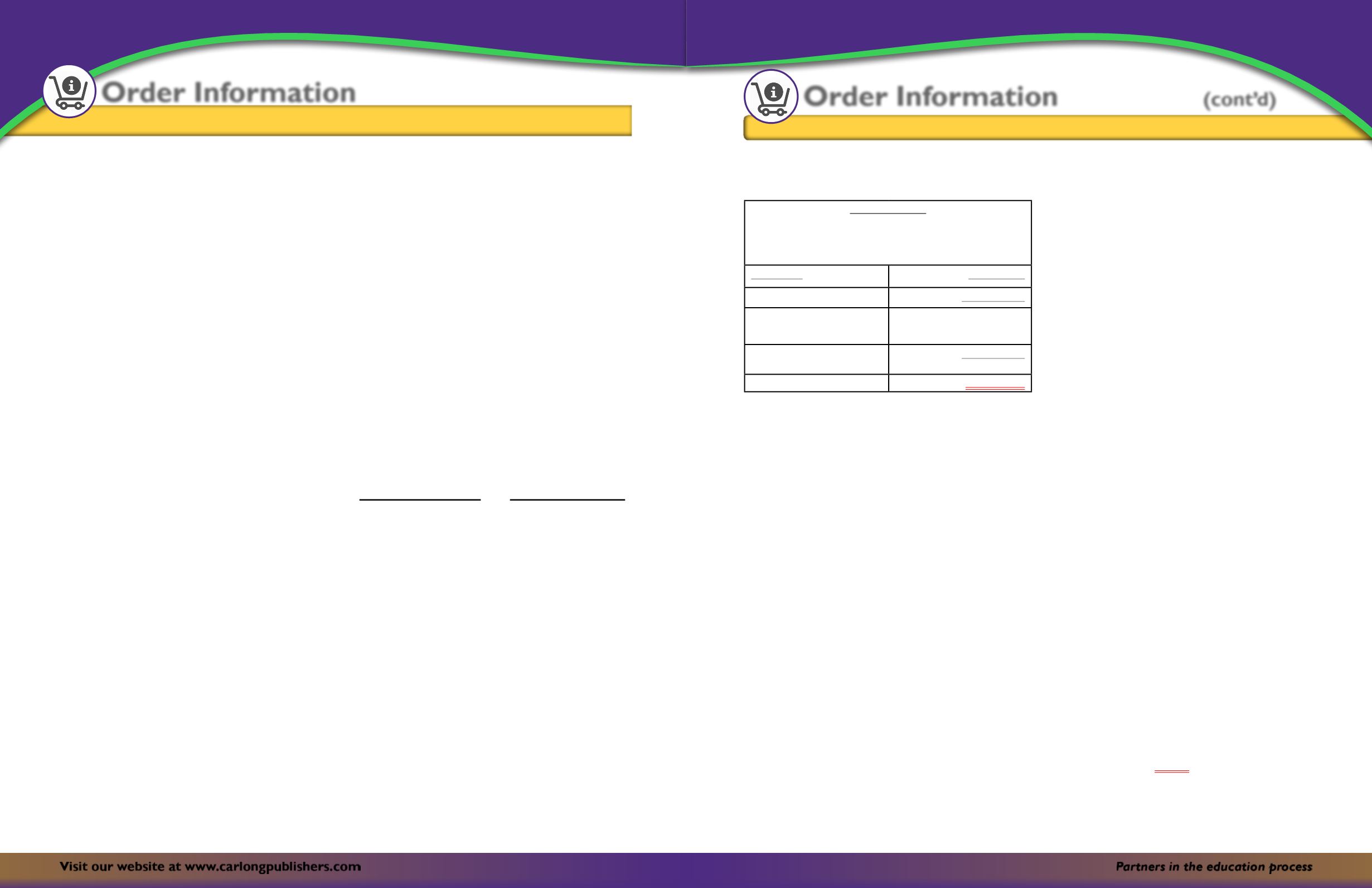 61
Partners in the education process
60
Visit our website at
www.carlongpublishers.com
TradingTerms
Order Information
All purchases are either cash or credit. The duration
for credit purchases is 30 days from date of invoice, (eg.
payment for goods bought on the 20
th
of the month is due
on the 19
th
of the following month). Note the features of
your invoice below.
z
z
Date of Invoice
z
z
Invoice Number
z
z
Customer Number (this is how your bookshop is
identified)
z
z
Order Number
z
z
Quantity Ordered
z
z
Quantity Supplied
z
z
Description of Goods – (book title & ISBN)
z
z
Published Price (PP)
z
z
Discount
z
z
Extended Prices (Qty x PP Less Discount)
z
z
Total at the bottom of the Invoice
z
z
Name, Signature and Date. Please ensure that the
Dispatcher signs your invoice.
Carlong has a Committee that meets the first week of May
each year to set the credit limits for the peak season (June –
September) and the slow period (October – May).
Credit Committee
Carl Carby – Executive Chairman
Racquel McLean – Distribution Logistics Manager
Esther McDonald – Financial Controller
Donna Gordon Francis – Chief Accountant
Marvalyn Graham – General Ledger/Budget Accountant
Delores Grant-Smith – Customer Service Administrator
Tannishea Roache Hanson – Senior Customer Service
Representative
A credit letter is sent to all credit customers informing them of
their new limits for the upcoming season.
Below is the list of variables used to inform adjustments to
credit limits.
z
z
Largest invoice per month
z
z
Highest balance per month
z
z
Days to pay (this refers to customers who already have a
credit facility and require an increase)
z
z
Number of returned cheques
z
z
Total sales for the prior year
z
z
Expansion – This information is sent in by the customer. It
represents additional store(s) or expansion of existing store
or other forms of business expansions.
New Customers
New customers are required to trade for two years as cash
customers before becoming eligible for credit. The credit
facility is not automatic. Customers are required to make a
request for credit in writing. Each customer will be required
to complete a Credit Application Form supplied by Carlong.
Conditions apply.
New customers are required to complete a Bookshop Data
Form supplied by Carlong giving information on the name and
address of the bookstore, telephone numbers, email address,
type of goods sold in store, type of management present at
store, (ie. full-time, part-time/absentee), credit references, etc.
Publications
Carlong is the sole distributor of the following publications:
Carlong, Hodder Education/Pearson and Penguin titles. We
also stock some Ladybird titles.
Discounts
Discounts ranging from twenty-five to thirty percent (25%-
30%) are given on Carlong/Hodder Education/Pearson and
Ladybird titles.
Minimum Quantity
Discount allowed
6 copies (of any one title)
25% – 30%
Institutions such as schools, libraries and public sector
organizations, groups and churches may be eligible for a 20%
discount. Conditions apply.
Order Processing
Contact us at any of the following.
Telephone: (876) 923-6505-7
Fax: (876) 923-7003
E-Mail:
sales.distrib@carlongpublishers.com
When orders are submitted to our Customer Service
Department at 37 Second Street, Newport West, the order
is placed into the system and the value of the order is
determined. If the customer is a cash customer, a picking slip
is generated at 38 First Street, Newport West and the order is
processed accordingly.
However, if the customer is a credit customer the account
status determines whether the order should be supplied. Your
balance is checked to ascertain if you are within your credit
limit or if you have exceeded same.
TradingTerms
Credit customers are informed if their account's limit has been
exceeded (account is in arrears). Customers are then given the
chance to settle the account. Below is an example of the details
on a statement for an account which is in arrears.
Account Details
Name of Bookshop
(Bookstore Limited)
Credit Limit
$500,000.00
Amount due @ March 1
($350,000.00)
Available credit
$150,000.00
Order value @ March 2
($250,000.00)
Overdraft
$100,000.00
Action
Bookstore Limited will be asked to rectify their account status
by employing one of the following strategies.
(1)
Pay $100,000.00 up front
(2)
Reduce their order to the available credit amount
($150,000.00)
Kindly submit orders at least two (2) days in advance during
the peak season (June to September) to minimize delays and
errors. We do our best but we ask for your input as well.
Deliveries
All deliveries are done at our Distribution Centre, 38 First
Street, Newport West. In your best interest, we ask that you
check your goods with our Dispatcher to ensure accuracy.
Invoices bearing both signatures indicate that the entire order
has been filled.
Pre-packed Orders
Done at the customer's risk. Customers, especially those in
rural areas, ask that their orders be packed and ready for pick-
up. We try to accommodate these requests but Carlong is not
responsible for any shortages experienced.
Returns Policy
•
No returns on firm sales.
•
Books may be returned to the Inventory Clerk within
sixty (60) days from date of invoice.
•
The following criteria must be satisfied before credit
can be approved.
o
Book(s) must not be damaged or defaced.

All prices should be removed without
defacing the book.

No residue, pencil or other marks of
impression should be visible.
o
A copy of the invoice or delivery note on which
the books were originally supplied must be
presented with the books being returned.
o
Both the customer and the Inventory Clerk
must check and agree on the books being
returned.
Damaged Returns
Damaged or faulty books may be replaced at no extra cost to
the customers if the flaw falls under any of those described
below.
•
Books collated incorrectly
•
Missing pages
•
User returns a book that is faulty
These should be retrieved from the customer/user and
returned to Carlong. If we are unable to replace returned
books, a credit note will be issued to the bookseller.
Statements
Statements are printed monthly and sent to each credit
customer. The responsibility is the customer's to go through
the statements and direct all queries to Customer Service or
the Credit & Collections Accountant.
Payments should be made against specific invoices. So please
quote the pertinent invoice number(s) when submitting
payments.
Account statements indicate the age and categories under
which each invoice falls. Below is the list of categories.

Current - all invoices within the given month. (Not yet
due)

30 days - invoices now due

31-60 days - invoices over 30 days. (Past due)

Over 60 days -
Critical
Order Information
(cont'd)