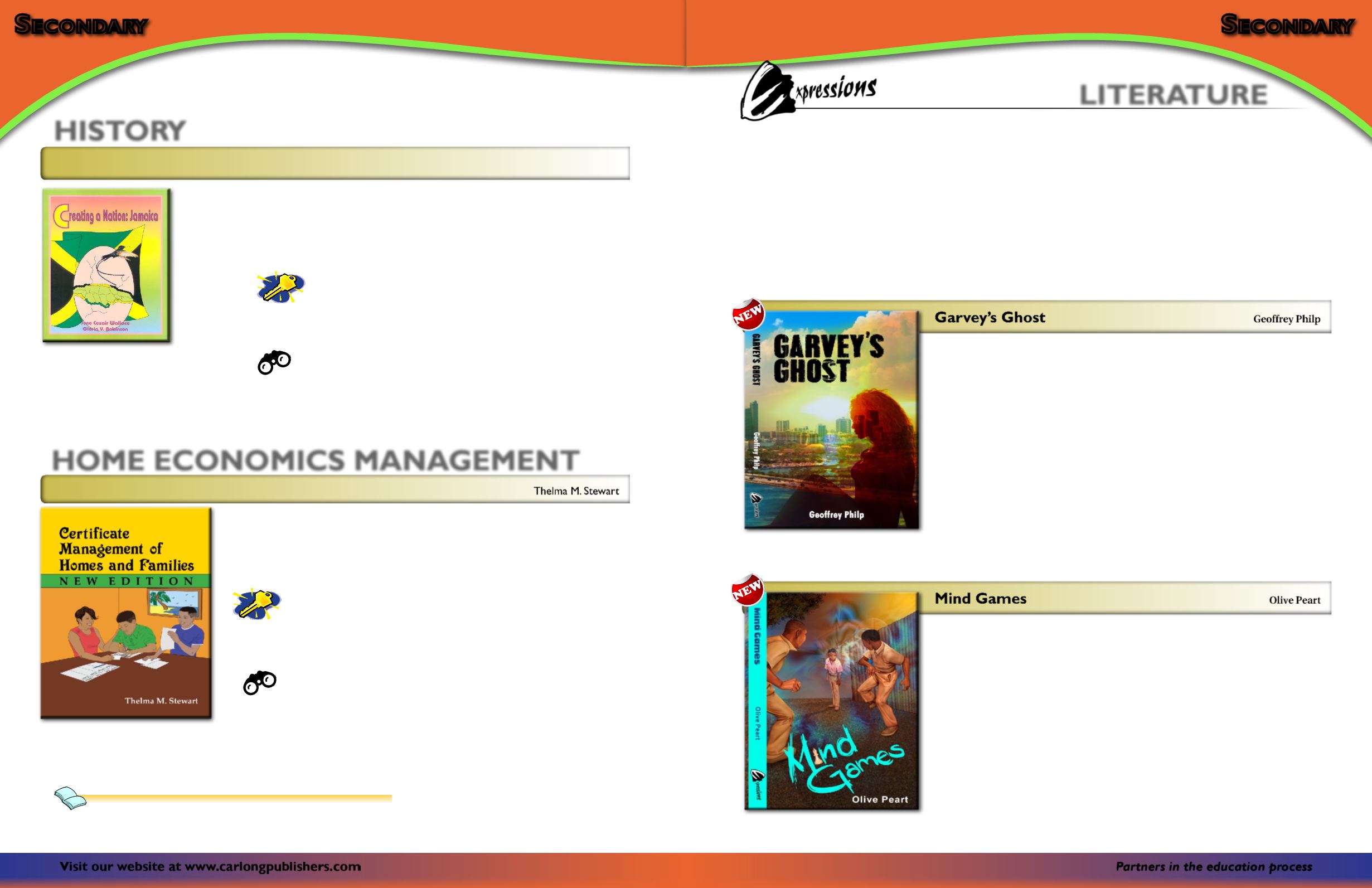 S
econdary
S
econdary
45
Partners in the education process
44
Visit our website at
www.carlongpublishers.com
Creating a Nation: Jamaica
HISTORY
June Cezair Wallace

Gloria V. Robinson
U
sing a concept-based thematic, rather than a purely chronological
approach, the text traces the social history of Jamaica from the arrival
of the Tainos to Independence.
Special emphasis is placed on concepts important to historians as well as
research methods for collecting historical data.
z
z
A variety of source materials
z
z
Student-centred activities which develop investigative
and analytical skills
Key Features
ISBN: 978 976 638 011 3
Pages: 236
Age group: 11–13 years
Look Out For!
z
z
Illustrations
,
maps
and
photographs
HOME ECONOMICS MANAGEMENT
Certificate Management of Homes and Families
T
his text provides complete coverage of the topics in the CSEC
®
syllabus.
It is also a useful resource for students doing vocational training or for
assisting homemakers to manage their homes. The text appears on the
MOE's approved textbook lists in several Caribbean countries.
ISBN: 978 976 638 801 059 9
Pages: 244
Age group: 15–18 years
z
z
Evaluates and explains the impact of management skills on individuals
and families
z
z
Useful resource for persons who wish to develop general management
skills
Key Features
Look Out For!
z
z
Questions at the end of each unit
z
z
A variety of real-life examples
z
z
Lively illustrations
Revised edition
Forthcoming
CarlongYoung Adult Series
C
arlong's new young adult series seeks to respond to the call of the Ministries of Education across the Caribbean
and the Caribbean Examinations Council for a significant increase in the number of high quality literature that
is available for our students to study as well as read for leisure. It will also reflect and effectively treat with numerous
issues with which youths grapple globally. For these reasons the series:
z
z
Keeps readers enthralled from start to finish with exciting, highly engaging plot lines
z
z
Stimulates
discussions pertinent to youths at each level of their development
z
z
Engages students in deep thinking and
analytical analyses
through thought-provoking content
z
z
Reflects the themes, focus and emphases of the curricula of the Ministries of Education throughout the region
z
z
Demonstrates the values and attitudes that the Ministries wish to have promulgated among the youth
LITERATURE
ISBN: 978 976 638 166 0
Age group: 15–18 years
Pages: 256
K
athryn Bailey is a single Jamaican woman of East Indian descent living
in Miami, Florida. Her teenage daughter, Jasmine, disappears and she
pursues all clues to find her. Her search takes her to Jacob Virgo, a professor
of Black History and a devoted Garveyite and dreadlock.
The two have very little in common but reluctantly join forces to find
Jasmine. Despite an initial resistance and denial, Garvey's lessons and
teachings break down subtle barriers in their partnership. They not only
manage to battle and overcome their own personal demons, but find
strength, honour, integrity and redemption in their quest and best of all, a
tender love with passion and depth.
ISBN: 978 976 638 167 7
Age group: 12–15 years
Pages: 172
M
ind Games
is a compelling story of an eleven-year-old boy, Matthew,
who has the uncanny gift of being able to influence people's thought
processes, sometimes unintentionally. Physically, he is short of stature so he
is bullied by some of his peers. To defend himself, Matthew learns to perfect
the art of playing games with the bullies' minds.
The story turns deadly when some boys, having become aware of his powers,
befriend him and coerce him into playing dangerous games of criminal
mastermind. This leads to a series of events that land some of the characters
in trouble with the law and one in the hospital at death's door.